Saturday, October 30, 2021 - 10:00am
The Bizy Buddies were created by Kevin Kohlstedt and Rudy Valenta. A new years resolution and two year journey brought to life this diverse cast of characters. Their purpose is to teach children good habits in a fun, playful way. Help the Bizy Buddies explore nutrition and digestion on this fully-illustrated, 24-page adventure!
About the Authors:
Kevin Kohlstedt - believes in a sustainable world and develops solar energy projects that help fuel the clean energy future for his daughter, five nephews, and niece. He has worked as a janitor, lifeguard, developer, landscaper, and infrastructure engineer. He and his family live in Santa Monica, CA with a gentle sea breeze and constant drive to explore the endless beauty of the outdoors.
Rudy Valenta - believes that children are our future and that their education is the key to creating change. He has been a grocery store stockiest, bartender, restaurant cook, and children's toy designer. He loves to run races, make instant ramen, and is currently learning how to become a better swimmer. He and his partner live in Brooklyn, NY with a wall full of books and a collection of plants to keep their urban life green.
Books: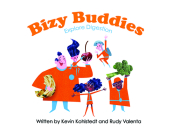 $18.95

ISBN: 9781645437383
Availability: Usually Ships in 1-5 Days
Published: Mascot Books - June 1st, 2021
Cute new children's book which helps explore digestion.
---