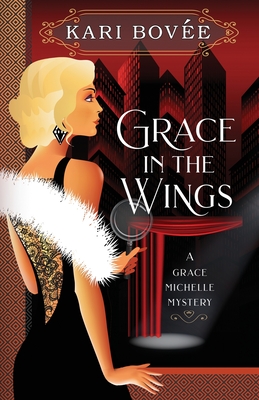 Grace in the Wings: A Grace Michelle Mystery (Grace Michelle Mysteries #1)
This product is not returnable.
Publication Date:
August 1st, 2019
Publisher:
Bosque Publishing
Usually Ships in 1 to 5 Days
Description
She's a reluctant Broadway star on the hunt to find her sister's killer. Will fame lead her to the truth, or will it be her final curtain call?
New York City, 1920. Grace Michelle has everything she wants: a home, a family, and a future career as a costume designer for famed showman Florenz Ziegfeld, Jr.'s Ziegfeld Follies. Pretty good for a girl who once lived on the streets of New York City. But when her sister, Sophia, the star of the show, is murdered, Grace's safe and protected life is shattered.
Battle-scarred by the war and emotionally scarred by his past, Chet Riker has made it a practice to keep his distance from others; love, after all, leads only to pain. But Chet has a problem-a big one: he's become indebted to mob-boss Joe Marciano in an attempt to save his estranged mother's life, and Marciano wants him to pay up or else. Desperate to get the money, he contacts former client Florenz Ziegfeld for work.
Soon, Chet finds himself playing bodyguard for introverted Grace, who has reluctantly agreed to be Ziegfeld's new leading lady-on the condition that Ziegfeld promises to find Sophia's killer. Upon meeting Grace, Chet quickly finds his hardened theory that love equals pain tested. Grace, meanwhile, is swept up in a life she never wanted as the Follies' star, and as the pawn in a series of publicity stunts during a transcontinental train trip to California that puts her life at risk. Who would want her and Sophia dead?
Together, she and Chet must confront publicity-hungry Florenz Ziegfeld, power-driven Joe Marciano, and their own pasts to find Sophia's killer-and let themselves love once again.