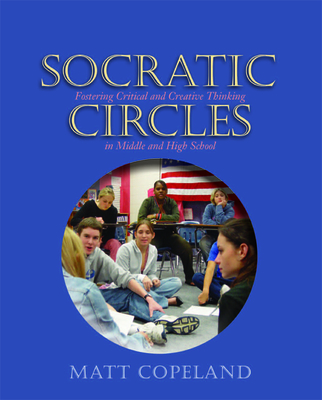 Socratic Circles: Fostering Critical and Creative Thinking in Middle and High School
Publication Date:
January 1st, 2005
Publisher:
Stenhouse Publishers
Description
The benefits and importance of Socratic seminars are widely recognized, but little has been written on how to make them happen successfully in the classroom. In Socratic Circles: Fostering Critical and Creative Thinking in Middle and High School, author Matt Copeland provides real-world examples and straightforward answers to frequent questions. He creates a coaching guide for both the teacher new to Socratic seminars and the experienced teacher seeking to optimize the benefits of this powerful strategy. Socratic Circles also shows teachers who are familiar with literature circles the many ways in which these two practices complement and extend each other.
Effectively implemented, Socratic seminars enhance reading comprehension, listening and speaking skills, and build better classroom community and conflict resolution skills. By giving students ownership over the classroom discussion around texts, they become more independent and motivated learners. Ultimately, because there is a direct relationship between the level of participation and the richness of the experience, Socratic seminars teach students to take responsibility for the quality of their own learning.
Filled with examples to help readers visualize the application of these concepts in practice, Socratic Circles includes transcripts of student dialogue and work samples of preparation and follow-up activities. The helpful appendices offer ready-to-copy handouts and examples, and suggested selections of text that connect to major literary works.
As our classrooms and our schools grow increasingly focused on meeting high standards and differentiating instruction for a wide variety of student needs and learning styles, Socratic seminars offer an essential classroom tool for meeting these goals.Socratic Circles is a complete and practical guide to Socratic seminars for the busy classroom teacher.