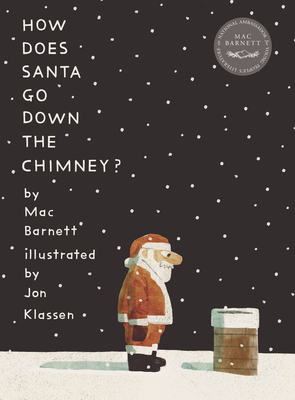 How Does Santa Go Down the Chimney?
Publication Date:
September 12th, 2023
Usually Ships in 1 to 5 Days
Kids will love this playful look at how Santa does it! Parents will love that the book provides no answers, just fun suggestions — and includes homes that don't have chimneys. The Barnett-Klassen superstar team delivers once again!
September/October 2023 Kids Indie Next List
Description
The beloved, multi-award-winning duo of Mac Barnett and Jon Klassen tackle a perennial question.
When Santa arrives at a child's house on Christmas Eve, does he go down the chimney feetfirst or headfirst? What if he gets stuck? What if there's no chimney? Maybe he slides under the door, as thin as a piece of paper? Or is it possible he pours himself through the faucet? What happens once he's inside? Whether it's shape-shifting or impromptu laundry use, Mac Barnett's iconic talent for earnest deadpan humor and Jon Klassen's irresistibly funny art honor the timeless question with answers both ridiculous and plausible, mounting in hilarity as the night continues. Channeling a child's fanciful explanations (and begging for further speculation), this latest collaboration by a New York Times best-selling team will find a secure spot among family holiday traditions.
Praise for How Does Santa Go Down the Chimney?
Klassen's illustrations, done in graphite pencil and ink and finished digitally, fit the absurdist humor wonderfully. The conclusion—that the narrator has no idea how Santa does it but is glad he can—is a great kicker.
—Booklist (starred review)
A dynamic picture-book duo turn their attention to one of the great mysteries of our time. . . . Curiosity runs wild as Barnett ponders everything from Santa doing the laundry in children's basements to his ability to get along with every household dog he meets, while Klassen's there to bring each possibility to life. . . . For all that it leans heavily on absurdity, this book exhibits some serious heart.. . . . In the market for an understated Christmas classic? Behold! A Christmas miracle!
—Kirkus Reviews (starred review)
Barnett's tone perfectly captures a child's endless stream of imaginative conjectures, while Klassen's droll idiosyncratic graphite and ink illustrations bring out the humor full force. . . . Another hilarious hit that will be a welcome addition to the lighter side of Christmas collections.
—School Library Journal (starred review)
Barnett's text expertly speculates as a child might. . . Klassen's graphite, ink, and digital illustrations add his ever-pleasing straight-faced brand of humor. . . Theorizing is more entertaining than discovering an answer would be—the magic is in the mystery, after all, including the mystery of how Santa gets back up the chimney.
—The Horn Book
The frequent collaborators take the simple question of the title and dive right in. . . Barnett sustains a wide-eyed, innocent tone throughout, and Klassen's Santa appears amiable in this smart Yuletide comedy that visualizes everything from Santa sitting in his skivvies in front of a clothes washer to Saint Nick arriving by post.
—Publishers Weekly
[A] genial and witty picture book. . . Rather than answer the question outright, Mr. Barnett does what parents generally do—he dodges it—in this case by posing a series of childlike speculations: 'Does he cinch up his belt? Or shrink himself down to the size of a mouse?' In Mr. Klassen's pictures, Santa is comically deadpan through ever-more outlandish propositions.
—The Wall Street Journal
How does Santa get down the chimney? Does he shrink? Stretch? And what if your house has no chimney? These are questions any curious child might ask, and the team of Barnett and Klassen explores them with wry humor. . . Together, they are a knockout team. . . This is a great Christmas book but don't be surprised if your child wants to read this one all year-round.
—The Star Tribune
Barnett and Klassen are a classic comedic duo, the likes of Abbott and Costello, with a signature blend of delightful, subversive humor that children and adults can't get enough of.
—The San Francisco Chronicle Datebook
For anyone who has ever wondered how exactly Santa goes down the chimney, this new story combines Mac Barnett's deadpan humor with Jon Klassen's irresistible art to explore both absolutely ridiculous and entirely plausible answers to an age-old question.
—The Barnes & Noble Reads Blog
Written and illustrated by the unstoppable duo that is Mac Barnett and Jon Klassen, this book features a hilarious exploration of how the heck Santa gets down the chimney—especially if there is no chimney to go down? Bottom line: Prepare to laugh out loud and also interview your child about their own hypothesis on this topic.
—PureWow
Author Barnet and illustrator Klassen present many ideas that will fire a child's imagination. The hilarious possibilities of Santa's talents for showing up on Christmas Eve undetected are further enhanced by the very funny illustrations, making 'How Does Santa Go Down the Chimney' one of the funniest, most clever Santa stories ever!
—The Reading Eagle
Instant classic!
—Iowa Public Radio