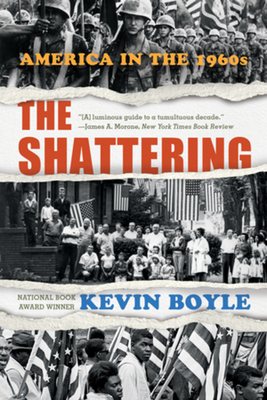 The Shattering: America in the 1960s
Publication Date:
November 29th, 2022
Publisher:
W. W. Norton & Company
Usually Ships in 1 to 5 Days
Description
A Los Angeles Times Most Anticipated Book of Fall 2021
From the National Book Award winner, a masterful history of the decade whose conflicts shattered America's postwar order and divide us still.
On July 4, 1961, the rising middle-class families of a Chicago neighborhood gathered before their flag-bedecked houses, a confident vision of the American Dream. That vision was shattered over the following decade, its inequities at home and arrogance abroad challenged by powerful civil rights and antiwar movements. Assassinations, social violence, and the blowback of a "silent majority" shredded the American fabric.
Covering the late 1950s through the early 1970s, The Shattering focuses on the period's fierce conflicts over race, sex, and war. The civil rights movement develops from the grassroots activism of Montgomery and the sit-ins, through the violence of Birmingham and the Edmund Pettus Bridge, to the frustrations of King's Chicago campaign, a rising Black nationalism, and the Nixon-era politics of busing and the Supreme Court. The Vietnam war unfolds as Cold War policy, high-stakes politics buffeted by powerful popular movements, and searing in-country experience. Americans' challenges to government regulation of sexuality yield landmark decisions on privacy rights, gay rights, contraception, and abortion.
Kevin Boyle captures the inspiring and brutal events of this passionate time with a remarkable empathy that restores the humanity of those making this history. Often they are everyday people like Elizabeth Eckford, enduring a hostile crowd outside her newly integrated high school in Little Rock, or Estelle Griswold, welcoming her arrest for dispensing birth control information in a Connecticut town. Political leaders also emerge in revealing detail: we track Richard Nixon's inheritances from Eisenhower and his debt to George Wallace, who forged a message of racism mixed with blue-collar grievance that Nixon imported into Republicanism.
The Shattering illuminates currents that still run through our politics. It is a history for our times.
Praise for The Shattering: America in the 1960s
[A] rich, layered account of the 1960s.
— Jennifer Szalai - New York Times
[A] luminous guide to a tumultuous decade…Boyle elegantly narrates the '60s through his three lenses—race, militarism, and sexuality—and grounds his narrative with individuals caught in the whirlwind.
— James A. Morone - New York Times Book Review
A lively popular history of the 1960s…Boyle enlivens his narrative with emblematic vignettes.
— Glenn C. Altschuler - Minneapolis Star Tribune
We live in eventful times, but they can't compare to the 1960s. Kevin Boyle has masterfully given sense and shape to a chaotic decade. The Shattering is panoramic, astute, and compellingly readable.
— Nicholas Lemann, author of Transaction Man
The Shattering is history at its absolute best. Boyle is such a gifted storyteller—I found myself riveted by this captivating portrait of a time when America exhibited its best and its worst natures side by side.
— Alex Kotlowitz, author of An American Summer
The Shattering is an epic history of the 1960s for a new generation. This passionately narrated, luminously written account of the decade that forever transformed America brilliantly recounts how that era's struggle for social justice and radical democracy continues to shape our own.
— Peniel E. Joseph, author of The Sword and the Shield
Gripping…Kevin Boyle gives us a fresh perspective on the central debates of the decade that will help readers understand the era in an entirely new light.
— Elizabeth Hinton, author of America on Fire
The Shattering is a magnificent book, immensely rewarding on many levels. With elegant fluency and quiet command, Kevin Boyle probes deeply into the intertwined struggles of the 'long Sixties' and their meaning for us today.
— Fredrik Logevall, author of JFK
In his beautifully rendered The Shattering, Kevin Boyle returns us to those challenging years, peopling them with real characters both famous and ordinary.
— Lizabeth Cohen, author of Saving America's Cities
A brilliantly achieved history of some unusually fraught years of American history.
— Kirkus Reviews (starred review)
Boyle's elegantly written account…is a skillful encapsulation of an era that brought to boil conflicts still tormenting American society today.
— Publishers Weekly