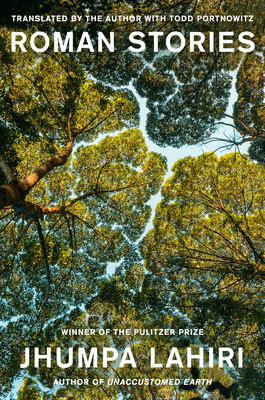 Roman Stories
Publication Date:
October 10th, 2023
Usually Ships in 1 to 5 Days
Description
A NEW YORKER ESSENTIAL READ • The first short story collection by the Pulitzer Prize–winning author and master of the form since her number one New York Times best seller Unaccustomed Earth • Rome—metropolis and monument, suspended between past and future, multi-faceted and metaphysical—is the protagonist, not the setting, of these nine stories
"A delectable, sun-washed treat . . . the stories have the beating heart of the city itself, a place of magnificent decay and vibrant, varied life." —Vogue
In "The Boundary," one family vacations in the Roman countryside, though we see their lives through the eyes of the caretaker's daughter, who nurses a wound from her family's immigrant past. In "P's Parties," a Roman couple, now empty nesters, finds comfort and community with foreigners at their friend's yearly birthday gathering—until the husband crosses a line.
And in "The Steps," on a public staircase that connects two neighborhoods and the residents who climb up and down it, we see Italy's capital in all of its social and cultural variegations, filled with the tensions of a changing city: visibility and invisibility, random acts of aggression, the challenge of straddling worlds and cultures, and the meaning of home.
These are splendid, searching stories, written in Jhumpa Lahiri's adopted language of Italian and seamlessly translated by the author and by Knopf editor Todd Portnowitz. Stories steeped in the moods of Italian master Alberto Moravia and guided, in the concluding tale, by the ineluctable ghost of Dante Alighieri, whose words lead the protagonist toward a new way of life.
Praise for Roman Stories
"Each narrative contains deftly drawn vignettes of the entwined lives of Italians and foreigners of different classes, colors, ages and creeds." —Wall Street Journal
"Electric . . .  Elegant . . . The fluid transitions between Lahiri's and Portnowitz's translations elevate Roman Stories from a grouping of individual tales to a deeply moving whole." —The New York Times
"A delectable, sun-washed treat . . . the stories have the beating heart of the city itself, a place of magnificent decay and vibrant, varied life." —Vogue

"Heartrending. . . affecting . . . [Lahiri] powerfully conveys her characters' valiant efforts to navigate geographic and cultural relocations and find their place in the world." —NPR
"Dazzling." —People

"Masterful . . . Lahiri brilliantly delineates her characters' triumphs and trials." —Minneapolis Star Tribune

"A dazzling collection of nine stories originally written in Italian and featuring characters who grapple with vast emotional and social chasms that cleave the lives of families, longtime friends, and immigrants . . . Throughout, Lahiri's luminous prose captures a side of Rome often ignored . . . These unembroidered yet potent stories shine." —Publishers Weekly (starred review)
"A brilliant return to the short story form by an author of protean accomplishments . . . Filled with intelligence and sorrow, these sharply drawn glimpses of Roman lives create an impressively unified effect." —Kirkus Reviews (starred review)
"Stunning . . . A finely calibrated collection about insiders and outsiders, natives and foreigners . . . Rome with its echoing past and mercurial present is a potently evocative setting for Lahiri's exquisitely incisive, richly empathetic, and profoundly resonant stories." —Booklist (starred review)