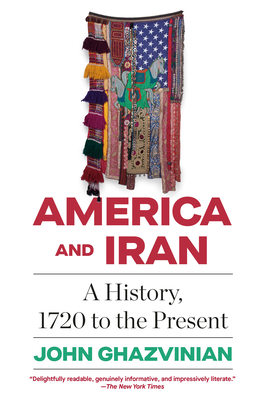 America and Iran: A History, 1720 to the Present
Publication Date:
December 7th, 2021
Usually Ships in 1 to 5 Days
Description
A NEW YORK TIMES NOTABLE BOOK OF THE YEAR • A hugely ambitious, "delightfully readable, genuinely informative" portrait (The New York Times) of the two-centuries-long entwined histories of Iran and America—two powers who were once allies and now adversaries—by an admired historian and former journalist.

In this rich, fascinating history, John Ghazvinian traces the complex story of the relations between these two nations back to the Persian Empire of the eighteenth century—the subject of great admiration by Thomas Jefferson and John Quincy Adams—and an America seen by Iranians as an ideal to emulate for their own government.
Drawing on years of archival research both in the United States and Iran—including access to Iranian government archives rarely available to Western scholars—the Iranian-born, Oxford-educated historian leads us through the four seasons of U.S.–Iran relations: the spring of mutual fascination; the summer of early interactions; the autumn of close strategic ties; and the long, dark winter of mutual hatred. Ghazvinian makes clear where, how, and when it all went wrong. America and Iran shows why two countries that once had such heartfelt admiration for each other became such committed enemies—and why it didn't have to turn out this way.
Praise for America and Iran: A History, 1720 to the Present
"Delightfully readable, genuinely informative, and impressively literate." —The New York Times
"Beautifully laid out and at times reading like a thriller you don't want to put down." —Hooman Majd, author of The Ayatollah Begs to Differ
 
"A magnificent, bold, wide-reaching and potentially significant book on the thorny subject of Iranian-American relations. . . . History as history should be written: accessible, humane, thoughtful, insightful and in places extremely funny." —The Catholic Herald
"History in the hands of a master. Ghazvinian leads us far beyond the mindless shouting of recent decades to tell a story of friendship, sacrifice, and discovery. Should be required reading in both Tehran and Washington." —Ambassador John Limbert, US Deputy Secretary of State for Iran (2009-10); former hostage in the US Embassy in Tehran (1979-81)
 
"Extensively researched and very well-written. . . . Anyone who reads the book will come away with a deeper understanding of the policy decisions and political upheavals that have shaped this relationship." —The American Conservative
 
"Timely and vividly engaging. . . .[Ghazvinian] captures the details of this complex relationship and clearly explains how both countries have been forced to respond to each other positively and harshly based on historical circumstances and conditions." —Library Journal
"A compelling and insightful read." —Irish Examiner
 
"A nuanced, illuminating, and much needed corrective to one-sided vilifications of Tehran." —Publishers Weekly (starred review)
"An expert on Iran delineates the massive rift between the erstwhile 'closest of allies' ... relevant, highly elucidating ... an evenhanded, revelatory narrative in which the author avoids muddying the waters with an overtly political agenda. An excellent single-volume history of a fraught international relationship." —Kirkus (starred review)