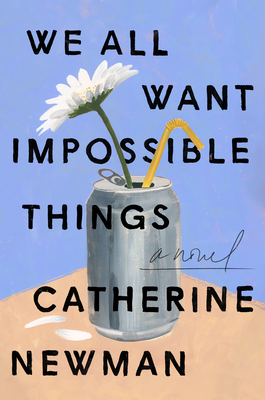 We All Want Impossible Things: A Novel
Publication Date:
November 7th, 2023
Publisher:
Harper Perennial
Usually Ships in 1 to 5 Days
Catherine Newman's writing brings poignancy, humor, insight, and joy to events both mundane and profound. For those who've lost a close friend or loved one in recent years, as so many of us have, this book is particularly meaningful.
November 2022 Indie Next List
Description
"Catherine Newman sees the heartbreak and comedy of life with wisdom and unflinching compassion. The way she finds the extraordinary in the everyday is nothing short of poetry. She's a writer's writer—and a human's human."—New York Times bestselling author Katherine Center
"A riotously funny and fiercely loyal love letter to female friendship. The story of Edi and Ash proves that a best friend is a gift from the gods. Newman turns her prodigious talents toward finding joy even in the friendship's final days. I laughed while crying, and was left revived. Newman is a comic masterhand and a dazzling philosopher of the day-to-day."—Amity Gaige, author of Sea Wife
"The funniest, most joyful book about dying—and living—that I have ever read."—KJ Dell'Antonia, author of the New York Times bestselling The Chicken Sisters
For lovers of Meg Wolitzer, Maria Semple, and Jenny Offill comes this raucous, poignant celebration of life, love, and friendship at its imperfect and radiant best. 
Edith and Ashley have been best friends for over forty-two years. They've shared the mundane and the momentous together: trick or treating and binge drinking; Gilligan's Island reruns and REM concerts; hickeys and heartbreak; surprise Scottish wakes; marriages, infertility, and children. As Ash says, "Edi's memory is like the back-up hard drive for mine." 
But now the unthinkable has happened. Edi is dying of ovarian cancer and spending her last days at a hospice near Ash, who stumbles into heartbreak surrounded by her daughters, ex(ish) husband, dear friends, a poorly chosen lover (or two), and a rotating cast of beautifully, fleetingly human hospice characters.
As The Fiddler on the Roof soundtrack blasts all day long from the room next door, Edi and Ash reminisce, hold on, and try to let go. Meanwhile, Ash struggles with being an imperfect friend, wife, and parent—with life, in other words, distilled to its heartbreaking, joyful, and comedic essence.
For anyone who's ever lost a friend or had one. Get ready to laugh through your tears.
Praise for We All Want Impossible Things: A Novel
"Tragically funny, with moments of clarity and wisdom, Newman writes loss and laughter in equally brilliant amounts." — Bonnie Garmus, New York Times bestselling author of Lessons in Chemistry
"Excruciatingly heartbreaking, but I laughed out loud on almost every page. And I am not an easy laughter. Newman's voice is hilarious and warm; her characters feel like old friend . . . a winning novel." — Julie Klam, New York Times Book Review
"Catherine Newman's book We All Want Impossible Things is hilarious and heartbreaking and I die for her." — Samantha Irby, New York Times bestselling author of Quietly Hostile
"This is an absolute heartbreaker of a novel. Catherine Newman's book, through deceptively simple language and everyday moments experienced during a friend's hospice death — funny, sad, regretful, hopeful — is a celebration of life. For anyone who has prepared a hole in their heart for loss, We All Want Impossible Things is a reminder that, in time, that hollowed hallowed space is also there for when the light and love from grief pour back in." — Laura Zigman, author of Separation Anxiety
"A novel set in a hospice has no right to be as hilarious, charming, and hopeful as We All Want Impossible Things. With Nora Ephron-style lightness, Catherine Newman has constructed a truly singular tale of love and friendship in the twenty-first century. I loved it." — Joanna Rakoff, author of My Salinger Year
"A warm and remarkably funny book about death and caregiving that will make readers laugh through their tears." — Kirkus Reviews (starred review)
"Devastatingly humorous and humorously devastating, We All Want Impossible Things is an unbelievably brilliant and funny book about friendship, family, food, sex, and death. Catherine Newman serves up a masterclass in narrative – you'll stay up late devouring every word." — Katherine Heiny, author of Early Morning Riser and Standard Deviation
"In author Catherine Newman's expert hands, We All Want Impossible Things is an extraordinary ode to friendship–warm, sometimes outrageously funny, and as real as it gets. It celebrates the gift of long-term bonds without shying away from the pain of losing someone you can't imagine life without." — Real Simple
"Pulses with life . . . . full of moments both mundane and painful, hilarious and heartbreaking." — BookPage (starred review)
"Gorgeous, tender, and unexpectedly funny. I read the entirety of Edi and Ash's story with my hand clasped over my heart." — Kate Baer, #1 New York Times bestselling author of What Kind of Woman and I Hope This Finds You Well
"Fearless, open-hearted, funny, and provocative." — Lit Hub
"Newman packs a gut punch, bringing humor and wit to a duo's final days together in We All Want Impossible Things." — PopSugar
"Compulsively readable and tenderly hilarious." — Ploughshares
"Catherine Newman sees the heartbreak and comedy of life with wisdom and unflinching compassion. The way she finds the extraordinary in the everyday is nothing short of poetry. She's a writer's writer—and a human's human." — Katherine Center, New York Times bestselling author of The Bodyguard
"We All Want Impossible Things is a riotously funny and fiercely loyal love letter to female friendship. The story of Edi and Ash proves that a best friend is a gift from the gods. Newman turns her prodigious talents toward finding joy even in the friendship's final days. I laughed while crying, and was left revived. Newman is a comic masterhand and a dazzling philosopher of the day-to-day." — Amity Gaige, author of Sea Wife
"Genuinely heartbreaking and hilarious is a tough combination to pull off, but Newman does it in her first novel for adults . . . . Tears mix with laughter in everyday moments, showing the power of female friendship." — Washington Post
"The funniest, most joyful book about dying—and living—that I have ever read."   — KJ Dell'Antonia, author of The Chicken Sisters
"The poignant and personal story of the decades-long friendship of Edith and Ashley takes place in a hospice ward, where Edi is dying of ovarian cancer. Sound sad? Heartbreaking? It is. But it's also heartwarming and life affirming—and yes, hilarious." — Publishers Weekly
"How did Catherine Newman write a book about dying that is so luminously alive? Earthy, funny, and terrifyingly honest—this is a book with heart and guts and all the other goopy gravy we need to stay among the living. A radical delight." — Rufi Thorpe, PEN/ Faulkner Finalist for The Knockout Queen
"I adored this book. There is so much love, funniness, honesty, courage, mess, bounce, and surprise in this book, and not a shred of it is mawkish. Loss might be the central theme–or rather the process of losing your dearest friend–but it is the most robust and glorious affirmation of life. Pure genius and an utter joy to read." — Rachel Joyce, bestselling author of The Unlikely Pilgrimage of Harold Fry
"Devastatingly hilarious and poignantly poetic story about the intimacy of female bonds." — E! News
"[Newman] brings Ash to life through a voice that is both hilarious and filled with crushing sadness, but the ultimate message is that of hope. A crossover readalike for fans of death memoirs such as those by Paul Kalanithi and Nora McInerny." — Booklist
"Breezy New York Nora-Ephron-style wit meets hospice memoir to create something PROFOUNDLY beautiful. Grief, love, cake—it's ALL there." — Marian Keyes, international bestselling author of Rachel's Holiday
"Affirming, entertaining, and unaccountably, wonderfully funny" — Romper
"Can NOT put this down. Read for two-plus hours straight last night. Read while standing in line today. Read any free minutes. So, so, so good . . . Smart women friendship fiction at its best." — Zibby Owens
"Here is the thing about this book. It is excruciatingly heartbreaking, but I laughed out loud on almost every page. And I am not an easy laugher. Newman's voice is hilarious and warm; her characters feel like old friends . . . . a winning novel." — New York Times
"Here and throughout, Newman does a wonderful job channeling Ash's sense of impending loss . . . . Newman breathes ample life into this exquisite story of death and dying." — Publishers Weekly
"This is one of my new favorite books—a smart friendship story that made me laugh and cry. Truly." — Zibby Owens, GMA.com
"Newman's affecting novel takes place in hospice, yet it's anything but bleak . . . . Don't miss it." — People Magazine
"Yes, we all know hospice is sad, but it's also absurd, tedious and often achingly boring . . . . This story of friendship, family dynamics and even ill-timed lovers is also a reckoning with how life is about holding one another up through good times and bad— which are often one and the same. It's a meditation on how to love through loss that will help make whatever you're dealing with feel a little bit lighter." — Good Housekeeping
"There's no one quite like Catherine Newman, who can absolutely tear your heart out while reminding you how much there is to laugh about. This book, a novelization about taking case of her dying friend, is quintessential Catherine." — Jenny Rosenstrach, author of The Weekday Vegetarians
"Ash's voice is unbearably compelling . . . [The characters] are all original, fully imagined human beings, likable in different ways." — New York Journal of Books
"Not advised for reading in public, unless you enjoy crying around strangers." — New York Post
"Wonderful." — Cup of Jo
"[A] hug of a book . . . . a humorous, touching rumination on life, death, and friendship." — Apartment Therapy
"A tender, raucous, heart-wrenching, laugh-out-loud, thoughtful and honest exploration of friendship, life and death." — BookReporter
"…a fierce ode to female friendship and an exploration of the messiness of life, when grief and laughter can often be intertwined . . . . Newman has a light touch and uses humor to navigate the pain and raw emotion that's at the center of the novel." — Daily Hampshire Gazette
"I never thought any book would have me weeping more than A Little Life, but Catherine Newman's We All Want Impossible Things broke that record . . . . Pairs well with Kathryn Schulz's Lost & Found and/or Janine Kwoh's Welcome to the Grief Club."
— Southern Bookseller Review
"Through Ash's honest thoughts, her time with Edi, her conversations with her daughters, and her relationships with her lovers, Catherine Newman has written a novel that perfectly captures what it's like to experience love and loss." — The Everygirl